Soft Paneer Tacos Recipe with Step by Step Pictures.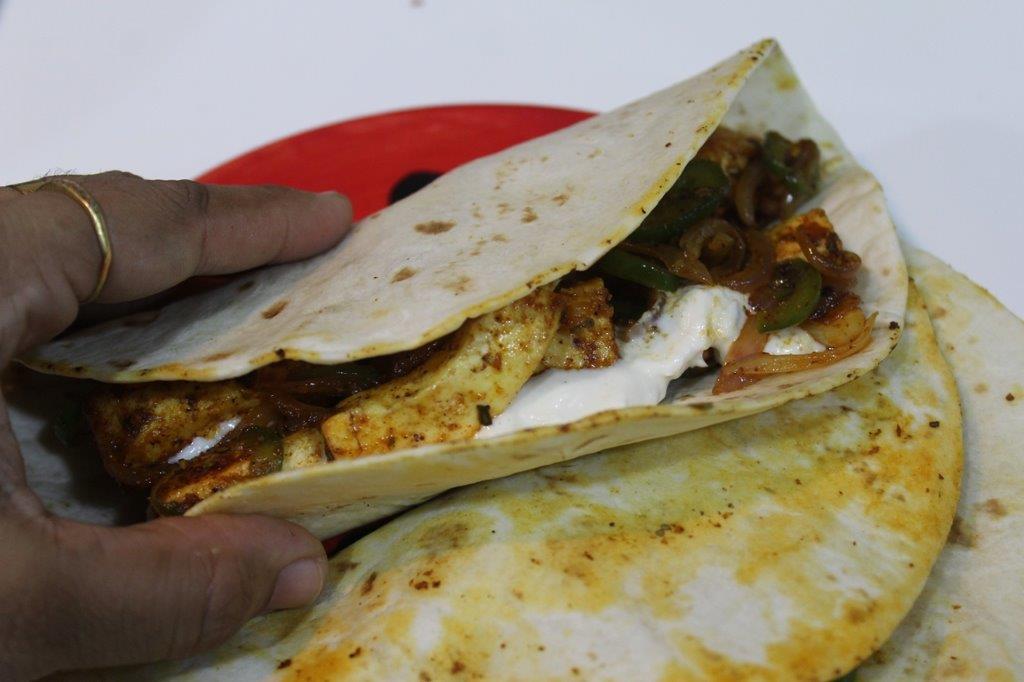 Spicy paneer tacos recipe spiced up with peri peri spice mix. This delicious paneer tacos is super easy to make and needs a handful of ingredients.
Tacos is a easy recipe which is made using cooked kidney beans and spices. The whole thing is filled inside crisp shell with cheese, onions, lettuce and tomatoes. My husband loves tacos and i make it quite often for him. You can buy taco shell in super market these days they are easily available. Or you can make it your own. Will share a separate recipe for taco shells. You can find it in amazon if you cannot find it in local shop.
This recipe is made using soft tortillas and the filling is a basic paneer filling.
Check out Mexican Tacos if you want too.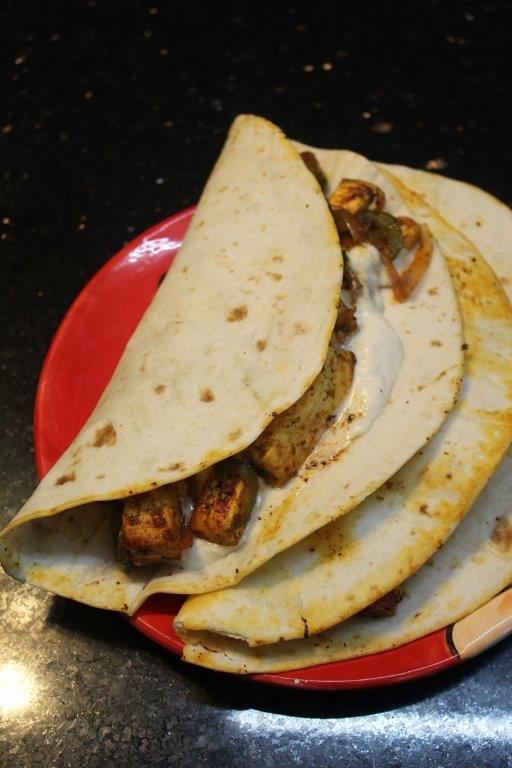 More Mexican Recipes for you.
Similar Recipes,
Mexican Breakfast Burrito
Mexican Scrambled Eggs
Mexican Rice
Veg Fajitas
Mexican Salsa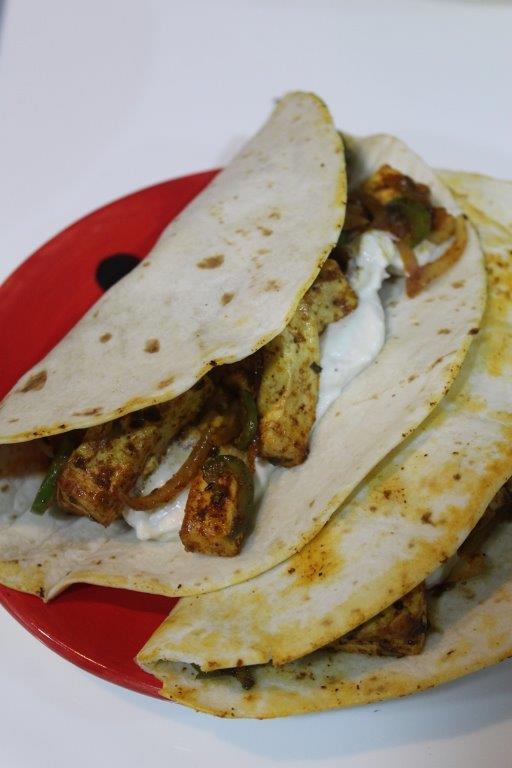 Hope you will give this a try and let me know how it turns out for you.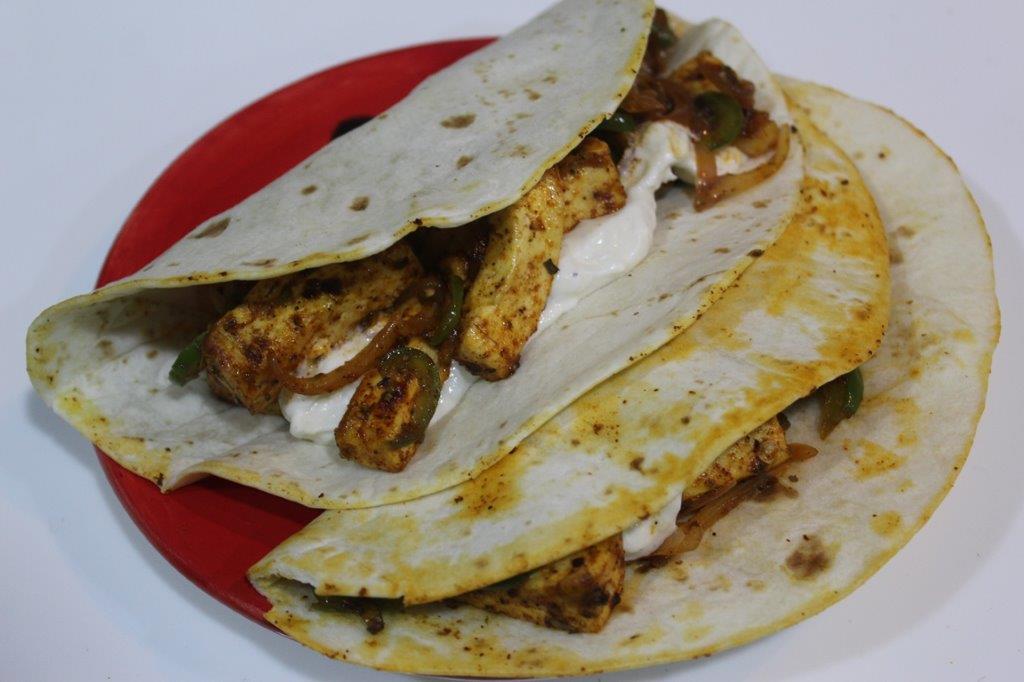 Soft Paneer Tacos Recipe
Delicious soft paneer tacos is a easy and delicious dinner or breakfast recipe. This tacos will be your kids favorite.
Ingredients
Oil – 2 tblsp
Onions – 1 large sliced thinly
Capsicum – 1 large sliced thinly
Paneer – 200 grams
Peri peri spice mix as needed
Salt to taste
Tortillas as needed
Mayonnaise or Garlic Sauce as needed
Instructions
Heat oil in a pan. Add in onions and capsicum and mix well. Cook for few minutes.
Now add in paneer and saute them well. Add peri peri mix and mix well.
Warm some tortillas.
Spoon filling in and spoon garklic sauce or mayo.
Serve.
Pictorial:
1)Take onions, capsicum and paneer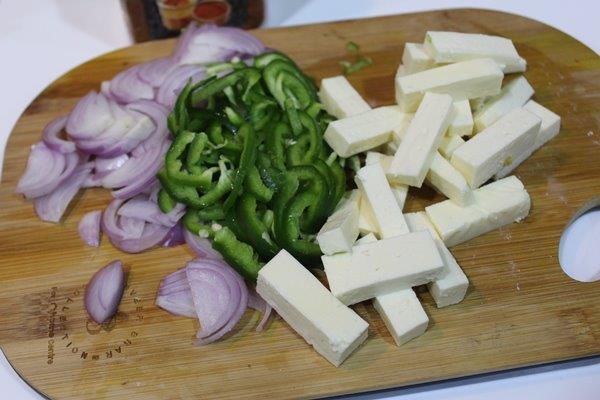 2)Heat a pan with little oil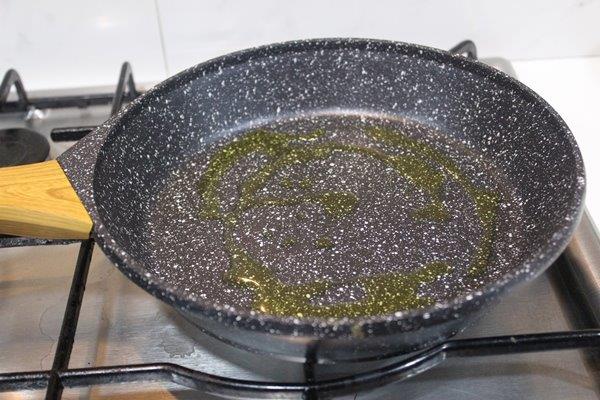 3)Add in onions and capsicum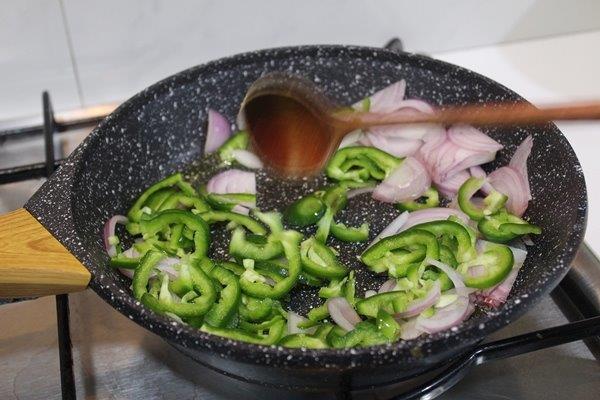 4)Look who is doing the cooking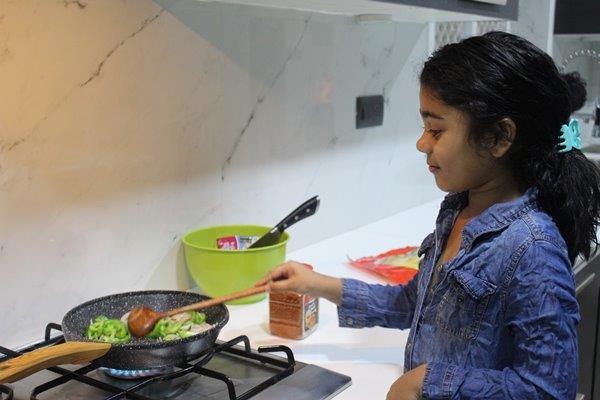 5)Saute till onions is cooked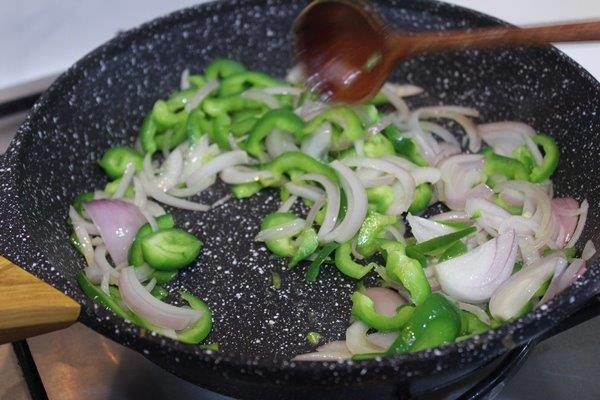 6)Add in paneer cubes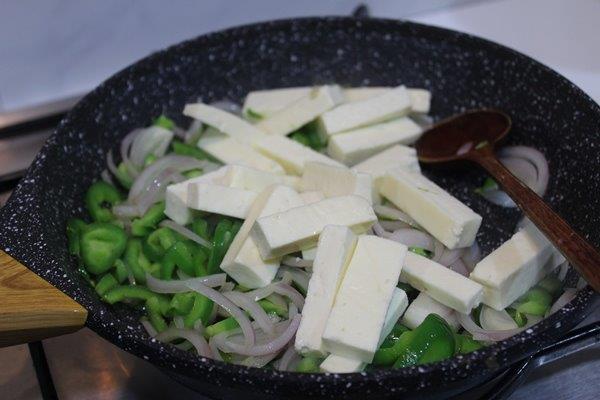 7)Saute them well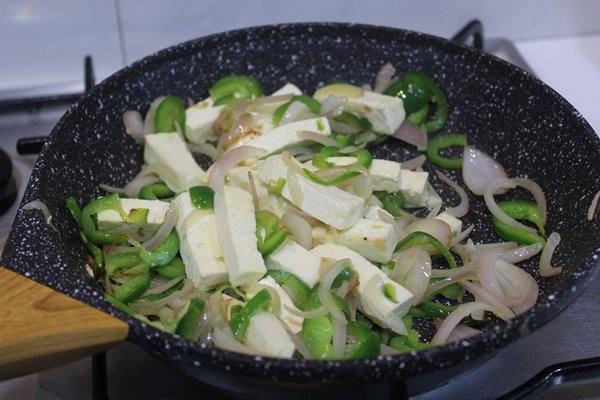 8)Add in peri peri spice mix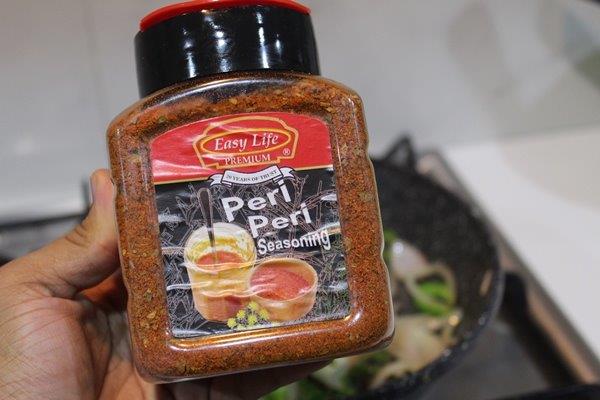 9)Add it in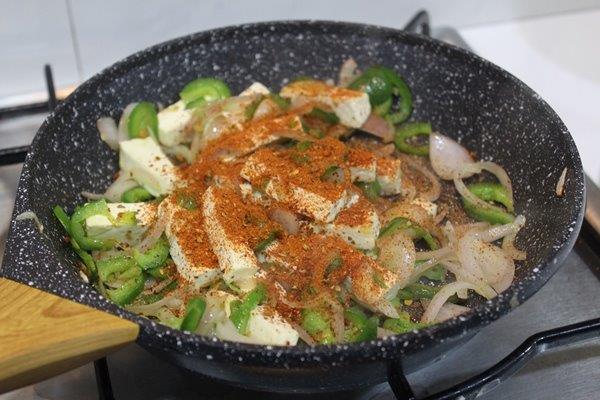 10)Saute them well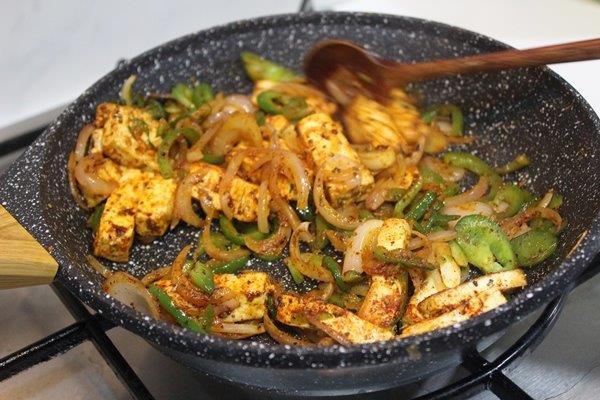 11)Done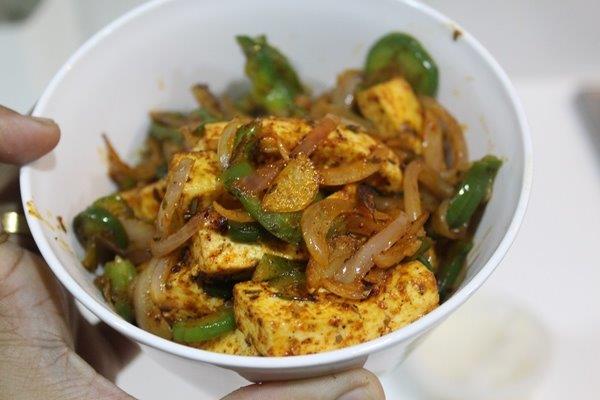 12)Warm some tortillas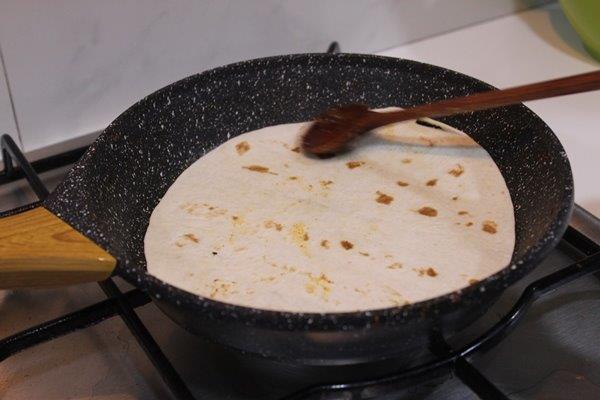 13)Take it off the heat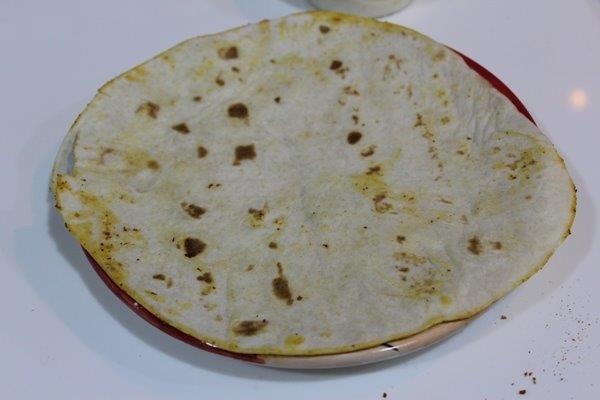 14)Spoon some filling in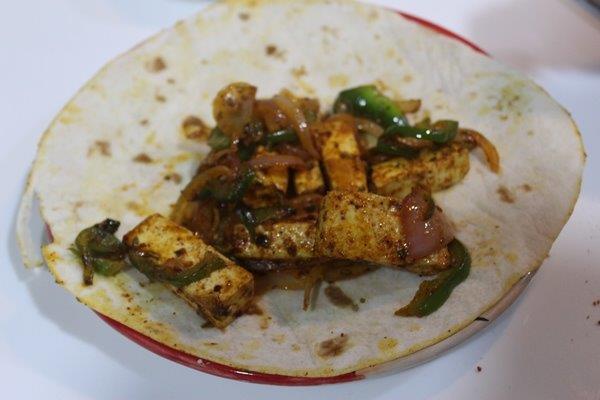 15)Spoon garlic sauce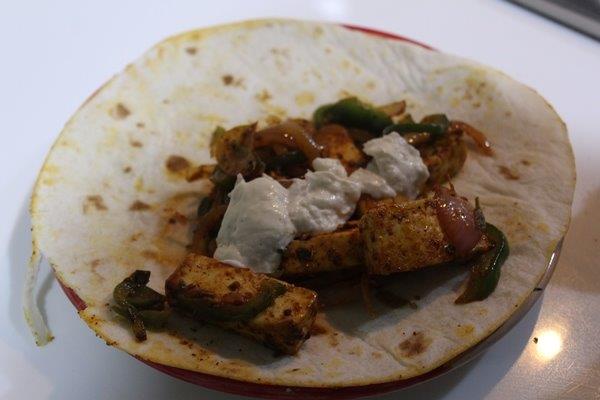 16)Fold and serve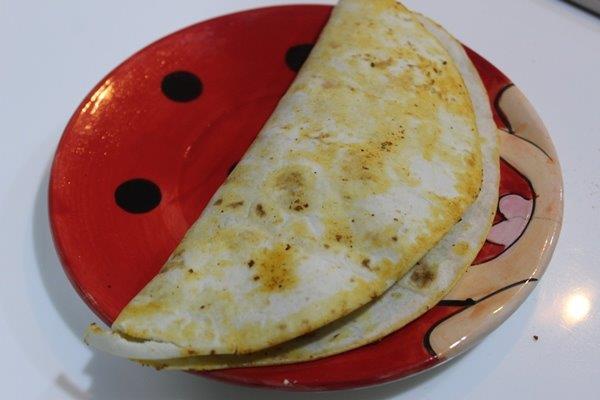 17)Enjoy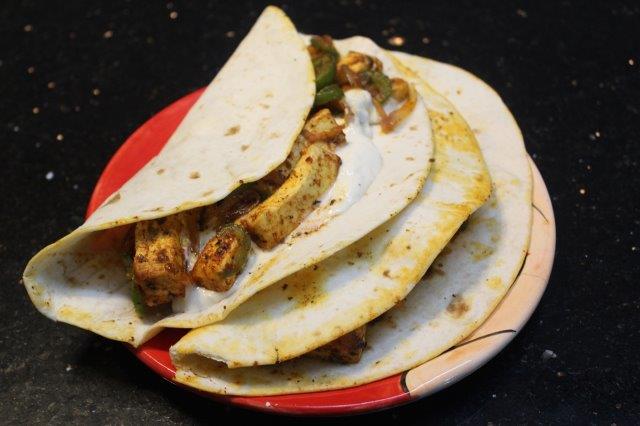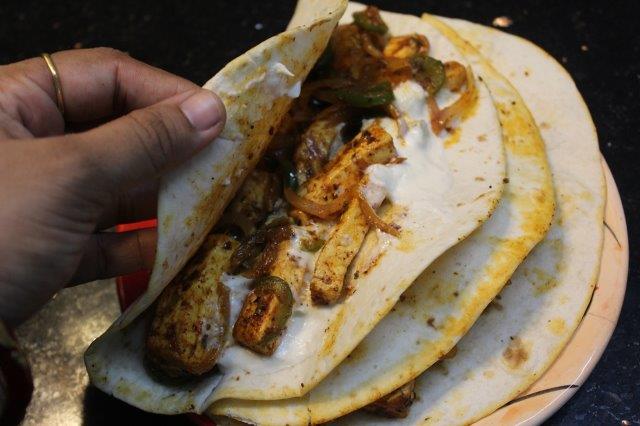 The post Soft Paneer Tacos Recipe appeared first on Yummy Tummy.